Surface Type ⇔ PORCELAIN
The base for porcelain is either steel or cast iron, and is specially designed for "enameling" (baking a porcelain finish on top during the manufacturing process).  Porcelain bathtubs and sink are the most common type found in homes, especially those built before the 1980s.
Today's standard size steel-enameled tubs measure 57L x 28W x 12D, and the cost to refinish is $350.  The nicer and cast iron-enameled tubs are deeper and wider, so the cost to refinish is $425.  Depending on their use and care, porcelain tubs can last as long as 10 years before needing to be refinished.
A tell-tale sign that it's time to refinish is when the tub is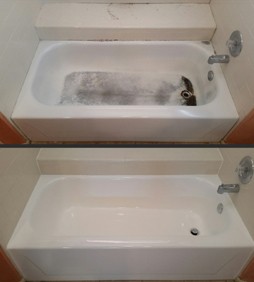 getting hard to clean ... or hard to keep clean, and it never really looks clean.  When this happens, chances are the porcelain finish is simply wearing off.  Why does that happen?  The finish wears off due to cleaning with harsh abrasives, which can cause a porcelain surface to become so porous that soap and body oils collect easily on the surface, making it nearly impossible to keep clean or look clean, even when you know it is.
If there is damage in the tub, it must be repaired before refinishing, and repairs can range between $25-$150.  Why such a wide range?  There may be just a little rust or a small chip that needs to be repaired, which would fall at the lower end. 
Worst case scenario would be that there are a lot of rust and chips, or that the bottom would have to be skinned because the porcelain finish has worn down to the point that the metal surface beneath the porcelain finish is beginning to show through, like in the picture below.  Skinning is a term we use for filling in pits, dimples, pinholes, and worn areas with bondo to help build up the surface that has worn off.
We've been doing chip repair for homebuilders and homeowners across the Dallas/Fort Worth metroplex for many years.  From hammers dropping into tubs, to soap dishes and towel bars falling off the wall, chips can happen in homes under construction, in homes just built, and in homes lived in for years!  The minimum charge for chip repair is $125.

Just because a tub or sink has chips, nicks, or scratches, it doesn't necessarily mean it has to be completely refinished.  If the damage is located above the water line, it can be repaired.  If the damage is located below the water line, it can still be repaired, but not guaranteed, because the water can eventually loosen the repair.  In cases like this, we recommend refinishing, so the repair is sealed and the work can be guaranteed.