Surface Type ⇔ FIBERGLASS
Fiberglass fixtures are made by forming layers of fiberglass into the desired shape, then coating it with a gelcoat resin. These fixtures are lightweight and inexpensive, but they also have a low shine, are prone to stress cracks and fading, and typically do not have a smooth surface.
Most fiberglass bathtubs are 5 foot rectangles like porcelain tubs.  If that describes the size of your tub, the cost to refinish is $350.  However, fiberglass tubs can also be molded into a unit where the tub and surrounding walls become one molded piece.  Fiberglass tubs can also be round or oval-shaped garden tubs, with or without jets.
Because of all these variables in size, in order to give you a bid for refinishing, we will need pictures and 3 measurements (length, width, and depth).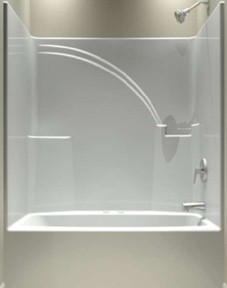 When taking these measurements, do not dip down into the tub.  Instead, just measure straight across the tub from front to back for length; side to side for width; and for the depth, measure from the outside of the tub starting at the floor and go straight up vertically to the top of the tub. With pictures and these 3 measurements, we will be able to give you an accurate bid.  The best pictures will include an overall image of the tub, as well as specific images of damage (rust, chips, stains, cracks, pits).
Our pricing is based on a white or off-white finish, but if you want another color, you can choose from our solid color finishes.  You'll notice there are no dark colors offered because we do not refinish in dark colors.  That's because even in the semi-sterile environment we try to create, there are still minute dust particles that float through the air that can and will be seen on a dark surface.  
If you don't need a special order color and are just trying to match the color to an existing toilet or countertop that is some variation of white or off-white, Jim has a great eye for color, and can tint the pure white color he starts with to get close to the color you're trying to match.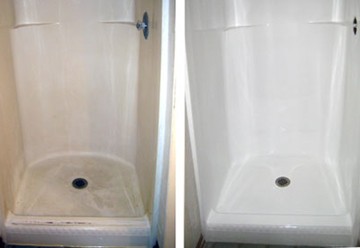 If you have a fiberglass shower, the best way to spruce it up is to have it refinished, especially if the finish has gotten dull. 
Showers can be any size or shape, so we will need pictures and measurements for the length and width of the shower walls and the shower floor in order to give you an accurate bid.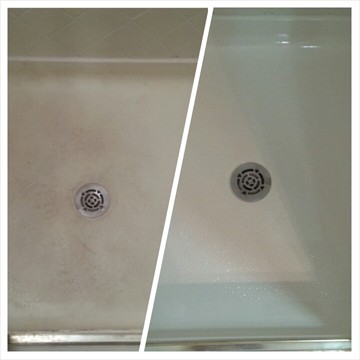 There are times when the walls of your shower still look good, but the fiberglass floor you stand on looks really bad.  That's no problem, because we can refinish just the shower floor without having to refinish the shower walls. To get a quick bid, email pictures of your shower floor, including measurements, which usually range from 3x3 to 3x5.
We've been doing chip repair for homebuilders and homeowners across the Dallas/Fort Worth metroplex for many years.  From hammers dropping into tubs, to soap dishes and towel bars falling off the wall, chips can happen in homes under construction, in homes just built, and in homes lived in for years!  There is a $125 minimum charge for chip repair.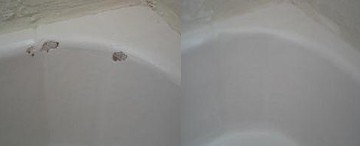 Just because a tub or sink has chips, nicks, or scratches, it doesn't necessarily mean it has to be completely refinished.  If the damage is located above the water line, it can be repaired.  If the damage is located below the water line, it can still be repaired, but not guaranteed, because the water can eventually loosen the repair.  In cases like this, we recommend refinishing, so the repair is sealed and the work can be guaranteed.