Fixture Type ⇔ COUNTERTOPS
There are typically two places in the home where countertops are found - the kitchen and the bathroom.  Bathroom countertops can be tiled and have a drop-in porcelain sink, or they can be made of cultured marble with molded sinks, which is a one continuous molded surface.  Kitchen countertops are usually made of formica, butcher block, or tile.  
Bathroom Countertops
Most cultured marble countertops contain one or two sinks, with the entire area being one big molded piece.  A problem area with cultured (man-made) marble is that over time, hairline cracks will start to develop near the drain.  This is a perfectly normal characteristic of how cultured marble breaks down, and it's due to hot and cold water hitting directly on the surface. We can repair cultured marble, but because the countertop and sink are all one molded piece, the entire unit must be refinished afterward to
hide and seal the repair. 
We exclusively use a MultiSpec finish - not a solid color - to refinish countertops, for these reasons:

the finish hides a multitude of flaws

it gives a beautiful contrast to a solid finish bathtub

it instantly updates a bathroom and removes the outdated cultured marble look by giving it a granite look
The reason we do not refinish countertops in a solid color is because there are minuscule particles that float through the air during the refinishing process that can and do get permanently caught in the finish - which can and will be seen.  Also, if you happen to chip the surface, it would be much more noticeable than it would be on a MultiSpec finish.
PRICING:  To get a ballpark figure for the cost of refinishing cultured marble bathroom countertops and sinks, use $30 per square foot plus $75 per bowl.

We only use a MultiSpec finish - not a solid color finish - to refinish kitchen countertops.  That's because kitchen countertops get a lot of use (and abuse), which requires a sealer top coat for durability.  In addition to that, a solid color finish would show flaws too easily for kitchen use.  The MultiSpec finish is designed not only to hide flaws, but also to give the appearance of granite.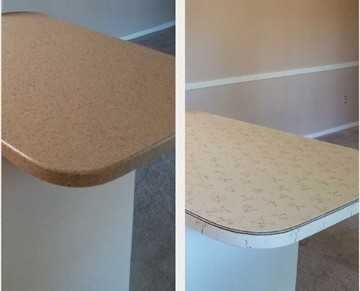 The majority of kitchen countertops are made with formica, and a MultiSpec finish is designed to give them the updated look of granite without the designer price tag.  No messy tear-outs; it's a sprayed-on finish that's durable and lasts!
What is Multi-Spec?  It is a unique decorative coating consisting of individual flecks of various colors that are subtly blended to achieve the natural appearance of granite or stone.  The finish is durable, and the stone look is truly custom.  Click HERE to see all the MultiSpec colors. No need to replace your existing countertops just to change their appearance.  That's what refinishing does!
PRICING:  To get a ballpark figure for the cost of refinishing kitchen countertops, use $30 per square foot.