Bathtub Refinishing 101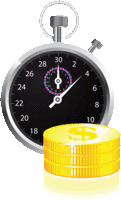 WHY REFINISH?
Time and Money!
When you're looking for the most cost-effective way to update the look of your home, consider refinishing your perfectly good bathtubs, sinks, countertops, and showers - instead of replacing them.
There is no need to deal with the mess and chaos for days on end of tearing out plumbing, ripping up floors, and damaging walls to replace bathtubs, sinks, bathroom wall tile and countertops, or even kitchen countertops that are in good working order just because you want to update the color scheme or because they have become stained, scratched, cracked, or otherwise damaged.
You can update the entire look of your bathroom or kitchen just by having the items in them refinished so that they coordinate  with your new décor - in a fraction of the time it would take to replace these items ... and at a fraction of the cost of replacing them.  THAT'S why refinishing is THE time-and-money-saving alternative to replacement when redecorating.
There is a BIG DIFFERENCE between Buying vs. Replacing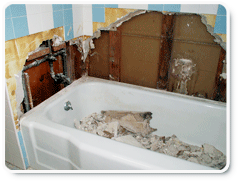 You don't really want to deal with this, do you? Unless you are gutting your bathroom down to the studs, there's no need to replace your bathtub, even if it is old and ugly. That's why refinishing is for!
Although you can buy a brand new steel bathtub for less than the cost of refinishing your existing tub, you can't replace the old one for the same or less money than the cost of having it refinished!  Why?  Because the most expensive part of replacing a bathtub is definitely not the cost of the new tub.  In fact, most of the expense of replacement is initially hidden.
The most expensive part of tub replacement begins with taking out the old tub, because in the process of doing that, parts of the bathroom tile must be torn away, which means you will need to hire a tileman to fix the damage.  In addition to that, the hardware for the new tub may not fit the old plumbing fixtures, so now you'll need to hire a plumber.  And on and on it can go.
Remember, bathrooms are built around tubs.  Can you even get it out of the bathroom or through the front door at all? If not, it will need to be cut in half.  Even if you can maneuver it through the house to the outside, you'll still need to dispose of it properly.
Add up the cost of the new tub, tile repair, a plumber, and a host of other "unknowns" you may run into, and that simple idea of replacing your tub could very possibly run into thousands of dollars!
Preparation is the Foundation
Successful refinishing greatly depends on how well the surface is prepared before the actual refinishing takes place, and preparation steps differ depending on the type of surface (porcelain vs. cultured marble vs. fiberglass) being refinished.
All surfaces must be thoroughly cleaned and repaired first as the foundational step.  On porcelain, we use an acid to etch the surface.  On cultured marble and fiberglass, we use a wet/dry sandpaper to "rough up" the surface so our product has something to adhere to. All areas not being refinished are completely protected by drop cloths, plastic, and masking paper.
There is SO much labor and time involved in prepping a bathroom or kitchen to ensure there is no overspray, and that fumes and dust particles are kept to a minimum while spraying.  All the areas 'papered off' for protection, and the fans that are used to control and filter the spray and fumes.  There is also an exhaust system used which further keeps the smell away!
One of the comments we hear time and again is how meticulous Jim is as he goes about his work.  Here is just one of these testimonials from a customer who had us come back to refinish a second tub in his home:  "Hi Debbie ... another beautiful refinishing job!   Jim puts so much prep into it - I think the part you don't see is as beautiful as the finished job. Thanks so much!"
It's a 'Sprayed-On' Process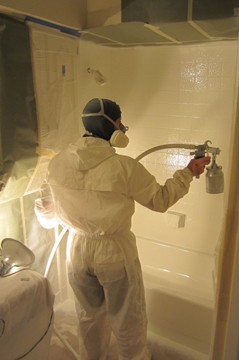 After the surface is properly prepared, a primer coat is applied.  This primer has a powerful bonding agent that shares common properties with the top coat which allows it to attach to the tub surface.  The entire surface will then get a minimum of 4 top coats.  What you end up with looks, feels, and cleans like brand new, and is extremely easy to keep clean.  Cleaning a refinished surface usually takes no more than a washcloth and a very mild liquid or foam cleaner.
The picture above is Jim spraying a bathtub and the tile walls of a tub surround.  It's hard to tell by the picture, but he has masked off all the areas around him in order to protect the areas not being sprayed.  He has mastered the art of refinishing and continues to be meticulous in every step of his work - truly an artist in his refinishing skills!
Service Areas
Our service areas extend to most of the Dallas Fort Worth metroplex including Addison, Argyle, Arlington, Bedford, Benbrook, Blue Mound, Carrollton,

Cedar Hill, Cockrell Hill, Colleyville, Coppell, Corinth, Dallas, Dalworthington Gardens, Denton, DeSoto, Double Oak, Duncanville, Euless, Farmers Branch, Flower Mound, Fort Worth, Frisco, Garland, Grand Prairie, Grapevine, Haltom City, Haslet, Highland Park, Highland Village, Hurst, Irving, Justin, Keller, Kennedale, Lancaster, Lewisville, Mansfield, Mesquite, North Richland Hills, Northlake, Plano, Richardson, Richland Hills, Roanoke, Saginaw, Southlake, The Colony, Trophy Club, University Park, Watauga, Westlake, and many others.
These cities indicate our maximum travel range.  Call Debbie at 817.305.0300 if you're unsure whether we travel to your area without an additional travel charge.